Welcome to Cherubs Chocolates
Hazel - Artisan Chocolatier.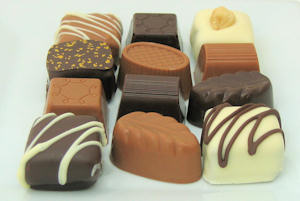 Cherubs Chocolates is a small family based business in Ferndown, Dorset. We are passionate about chocolate and have been in the chocolate industry for many years.
We offer a selection of luxury Belgian chocolates, most of which are individually handmade by artisan chocolatier Hazel, who has trained at The Barry Callebaut Chocolate Academy. We also offer occasional "guest selections" chosen from renowned chocolatiers in Belgium and England.
At the moment, Cherubs offer moulded, dipped and cut chocolates. We also have a "healthier chocolate" choice, a dark and a milk selection. You will see what we have to offer on our "World of Chocolate" page.
Please visit our shop for more information.
Our chocolates contain only the highest quality ingredients and each box is personalised, making them the perfect gift for any occasion. We can include any special message you want.
| | |
| --- | --- |
| | We now have a new Facebook page. Here you can find lots of fun things and ideas to do with chocolate. It is on our Chocolate Fountains of Dorset Facebook page but it has more to do with chocolate than it does with chocolate fountains. |
| | Hazel also has a Pinterest page where she puts some ideas and anything that she likes about chocolate and baking. |
We also have a fabulous "Terribly Tempting Truffle Trolley", which is a wonderful way to offer chocolates to your guests at any event. Alternatively, we also have a selection of wedding favours.
Latest Chocolate News
If you are thinking about having a chocolate fountain at your wedding or other special event, please visit our other site. We offer various packages including DIY packages.
This is where Hazel makes all of her chocolates.